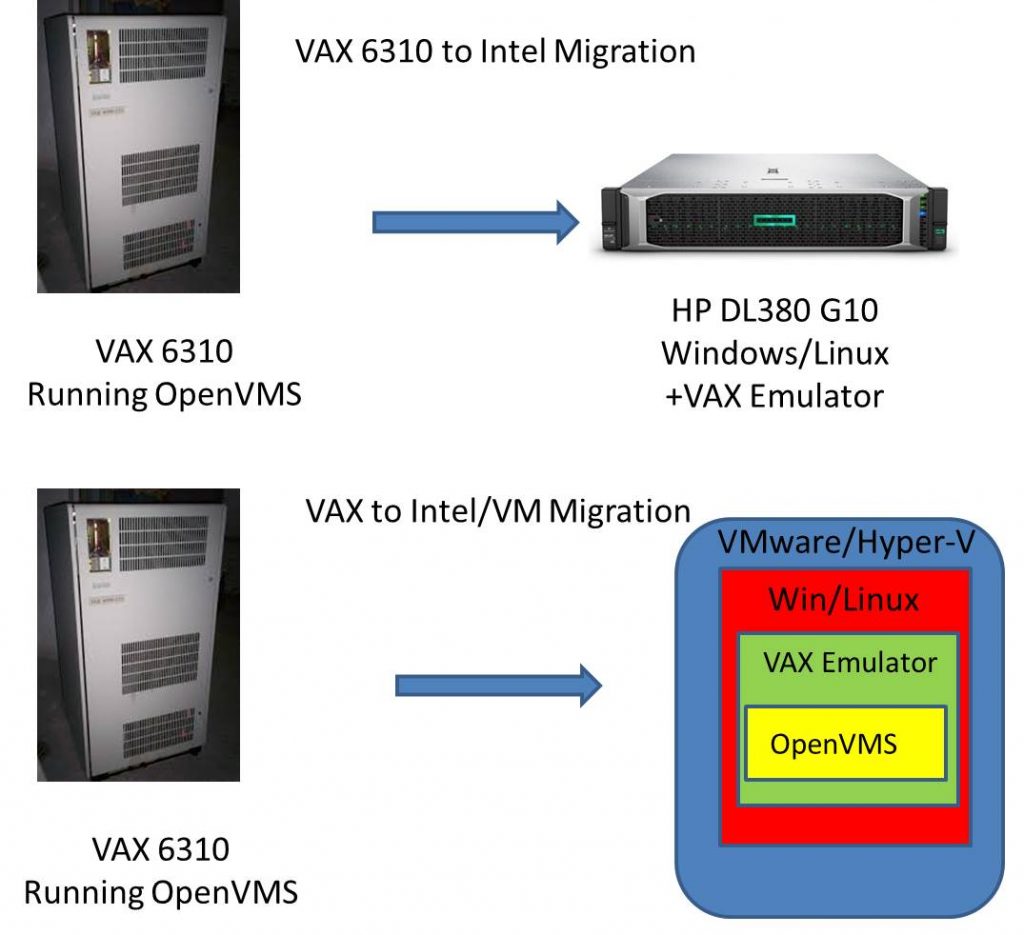 VAX 6310 or VAX 6000 Model 310 System Cross Platform Hardware Virtualization

The VAX 6310 System emulator will provide a fully binary compatible VAX 6310 virtual hardware environment running on either Windows (Server OS preferred but not required) or a Linux host 64bit Intel (Red Hat Enterprise recommended).
However, further model types can be emulated so that the Virtual VAX will appear to be exactly the same hardware type as the original physical system.
This provides the ability to move applications from the old VAX 6310 System hardware onto new Intel x64 servers and blades, without any code or operational process changes, thereby reducing floor space, power consumption and maintenance costs. It can make the application much more portable and resilient running within a modern SAN environment.
VAX CPU & System
The legacy VAX  6310 emulator software layer presents almost all virtual on board devices to the upper layer, from the OpenVMS operating system to the applications.
The Emulator works well with mainstream virtualization solutions and products like VMware, Oracle VM, etc.
Performance
The VAX 6310 Emulator utilises unique dynamic instruction translation technology (i.e., DIT) to improve runtime VAX instruction execution speed. The emulated VAX 6310 will run many times faster than the original VAX 6310 hardware.
Tristate can provide a complete solution
migration onto your own server or virtualised environment
full migration consultancy to move from the physical System to the emulated System
ongoing support services for the whole emulator environment
running on either Windows or Linux
Benefits of Emulation
Absolutely no code/program changes
More resilient disks and power supplies
Higher performance
Lower power consumption
Lower cooling costs
Gigabit Ethernet connections
Modern backup system
Run on Windows or Linux
Smaller footprint
Virtualised enviroment (VMware, Hyper-V, Oracle-VM)