Sun/Oracle Sparc Emulator
The SUN Sparc emulator (Charon-SSP) will provide a fully binary compatible SPARC virtual hardware environment running on a 64bit Intel Linux Host.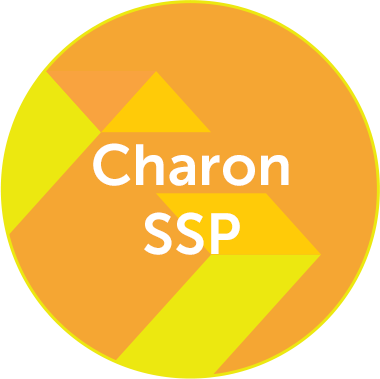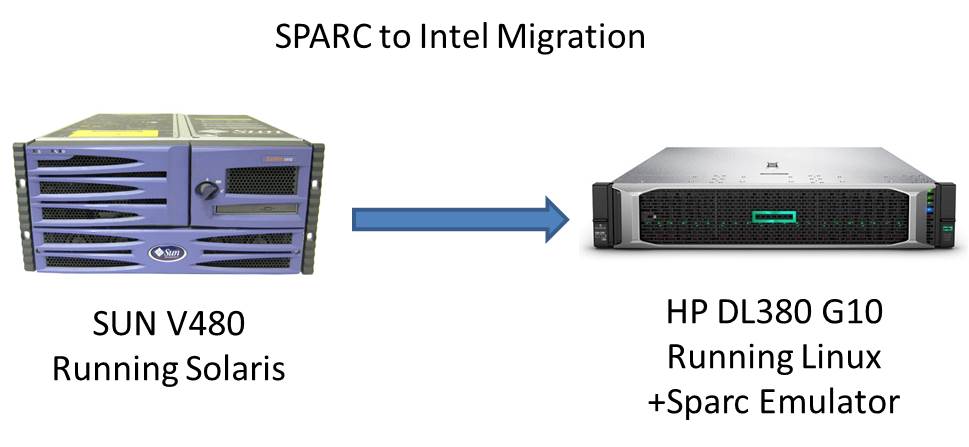 SUN/Oracle PARC Cross Platform Hardware Vitualization
The SUN Sparc emulator will provide a fully binary compatible SPARC virtual hardware environment running on a Linux host 64bit Intel (Red Hat Enterprise recommended). This will support all systems from the SUN 4M/V8 (32 bit), the Sun 4U/V9 (64 bit) and the Sun 4V/V9 range of servers.
This provides the ability to move applications from older SPARC hardware onto new Intel x64 servers and blades, without any code or operational process changes, thereby reducing floor space, power consumption and maintenance costs. It can make the application much more portable and resilient running within a modern SAN environment.
The legacy SPARC emulator software layer presents almost all virtual on board devices to the upper layer, from the Solaris/SunOS operating system to the applications.
A separate RPM installer is provided to allow the product to be installed on a standard Linux distribution, such as Red Hat Linux or Fedora. The Emulator works well with mainstream virtualization solutions and products like VMware, Oracle VM, etc.
The emulator is distributed in a number of different configurations:
Baremetal: Installation ISO image that contains the host operating system, the emulator, and additional packages plus the Baremetal GUI. There is no user access to the host OS.
Barebone version: that contains a customized Linux version and the emulator software.
RPM packages: for Oracle Linux, Red Hat, CentOS that are available upon request.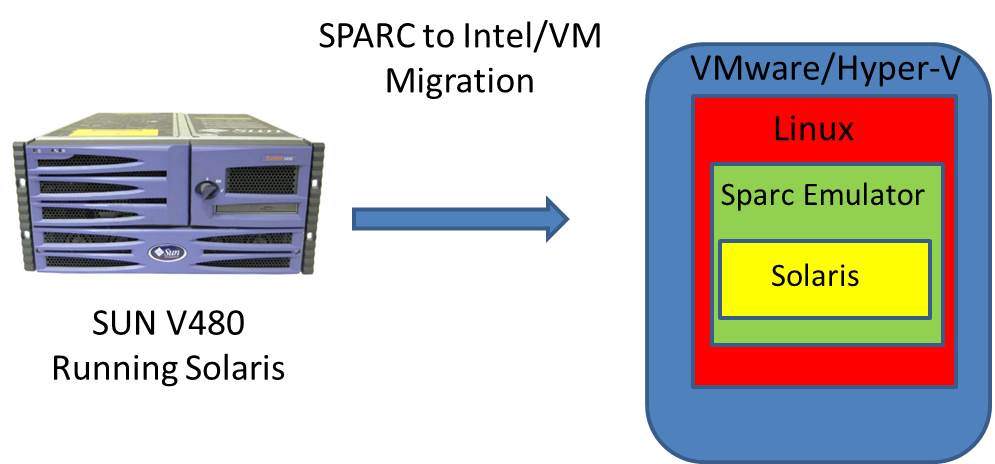 Management Application
There is an integrated Manager component of the product that provides an easy-to-use and intuitive graphical interface to manage the Emulator and virtual SPARC systems either locally or remotely. The Manager can be installed as a standalone application on Linux and it works as the virtual SPARC management station.
Performance
The Sparc Emulator utilises unique dynamic instruction translation technology (i.e., DIT) to improve runtime SPARC instruction execution speed. This DIT technology and carefully designed architecture bring the virtual SPARC system's performance to an accepted level. A special version called SSP+ is available to provides the maximum performance, this cannot run within another Virtual Hypervisor but must run on a physical server.
Configuration
The emulator supports configurations of up to 64 virtual SPARC CPU's and up to 1024GB of memory depending upon the resources available on the physical server.
List of supported SUN SPARC Servers
Note: 4M, 4U and 4V servers are now supported.
Supported Sun 4M Servers
Sun 4/6×0, SS4, SS5, SS10, SS20, LX/ZX, Classic, Voyager, JavaEngine1
Supported Sun 4U Servers
Sun Ultra 1, 2, 5, 10, 30, 60, 450
Sun Ultra 80, Ultra Enterprise 420R, and Netra t1400/1405.
Sun Ultra Enterprise 220R, 250, 450, 3000, 3500, 4000/5000, 4500/5500, 6000, 6500
Sun Ultra Enterprise 10000
Sun StorEdge N8400 and N8600 Filer
Sun SPARCengine Ultra AX, AXi, AXmp, AXmp+, AXe
Sun SPARCengine CP 1400, CP 1500, CP2140
Sun Netra t1 100/105, t1120/1125, ft1800, X1, T1 200, AX1105-500, 120
Sun Netra 20 (Netra T4)
Sun Netra ct800
Sun Blade 100, 150, 1000, 1500, 2000, 2500
Sun Fire 280R, Sun Fire 3800, 4800, 4810, 6800
Sun Fire V100, V120, V210, V240, V250, V440, V125, V215, V245, V445
Sun Netra 210, 240, 440
Sun Fire V480, V490, V880, V880z, V890
Sun Fire 12000, 15000, E20K, E25K
Sun Fire V1280, Netra 1280 (Netra T12)
Sun Fire E2900, E4900, E6900
Sun Fire B100s Blade Server
Sun Ultra 25 Workstation
Sun Ultra 45 Workstation
Sun/Fujitsu Siemens SPARC Enterprise M3000, M4000, M5000, M8000 and M9000
Sun Netra ct400, ct410, ct810
Sun SPARCengine CP2040, CP2060, CP2080, CP2160
Supported Sun 4V Servers
Sun Fire T2000, T1000, Netra T2000
Sun Blade T6300, T6320, T6340
Sun SPARC Enterprise T2000, T1000, T5120, T5140, T5220, T5240 Server, Netra T5220
Sun SPARC Enterprise T5440 Server, Netra T5440
Oracle SPARC T3-1, T3-1B, T3-2, T4-1, T4-2, T4-4, T5-2, T5-4
Fujitsu SPARC M10-1, M10-4
Sun Netra CP3260
Oracle SPARC T3-1BA, T3-4, T4-1B, T4-2B, T5-8, T5-1B
Oracle SPARC M5-32. M6-32
Oracle Netra SPARC T3 systems
Tristate can provide a complete solution
migration onto your own server or virtualised environment
full migration consultancy to move from the physical System to the emulated System
ongoing support services for the whole emulator environment
running on Linux
Benefits of Emulation
Absolutely no code/program changes
More resilient disks and power supplies
Potentially Higher performance
Lower power consumption
Lower cooling costs
Gigabit Ethernet connections
Modern backup system
Run on Linux
Smaller footprint
Virtualised enviroment (VMware, Hyper-V, Oracle-VM)
Evaluation Options
Tristate can also provide various evaluation options, which can be considered to be a Full DR test, as a system will be restored from your normal media. An evaluation can often highlight issues with the restore process that can be resolved prior to requiring an emergency restore.